We are Committed To Help Our Clients
Welcome to Coach Lambert Credit Repair your trusted partner on the journey to financial freedom and better credit. At Coach Lambert we understand that life can throw unexpected challenges your way, and sometimes, these challenges can impact your credit score.
Checkout What We Provide for Our Clients
We offer a wide range of solutions tailored to meet our clients' unique needs. From strategic guidance to innovative solutions, our services encompass it all. Discover how we can enhance your success with our dedicated and client-centric approach.
We don't use old fashion and outdated credit repair strategies like our competitors. Our focus is to quickly provide real results.
We offer the most affordable services in the industry. Our easy cost structure will make sure that you only pay for what you need.
This is our mission statement, we will meet and exceed your expectations when it comes to repairing your credit.
It's simple, if we don't clear up your credit, we will refund your money. All of our credit repair services comes with a 100% guarantee.
Before you get qualify for your new house, Lenders will look at credit reports, salary history, and two or more years of tax returns. If you have credit issues, be ready to explain them. Remember: lenders make money when they lend money, but they are also required to prove that they are making prudent lending decisions!
When reviewing a mortgage application, lenders look for an overall positive credit history, a low amount of debt and steady income, among other factors.
Three Simple Step To Start Working Process
Discover how we can enhance your success with our dedicated and client-centric approach.
Free Consultation
Do you have questions before we start helping you raise your credit score? No problem! We can offer you a free consultation.
Personalized Strategy
Every customer's situation is different. We build a customized credit strategy to help you reach your goals within shortest amount of time.
Rejoice in Results
We can't guarantee your results, but most of our customers start seeing the best results within 45 to 90 days of signing up for our service.
Our Expert Team Make You To Reach Your Goal
With their knowledge and experience, they will empower you to achieve success, ensuring you reach your desired destination. Trust in our expertise to make your dreams a reality.
Top Credit Repair Program to Rebuild Your Credit
The credit industry can be a battlefield for those suffering from negative and derogatory credit scores. Many individuals have the disadvantage of higher interest rates, credit denials, and the inability to find experienced help to navigate through the bumps and bruises in this ever-evolving economic world. 
What Our Happy Clients Says About Our Company
Turpis wisi pede tempus assumenda pede quis pretium. Aspernatur dolorem quod ultricies dicta ipsa, culpa condimentum do exercitation molestie, tincidunt quisque in eum, maecenas.
Very Good experience with this service. I started the program 2 months ago with a 496 and 2 month later my credit score jump to 602. Very happy!
Clara Rodriguez,

(Executive Director of Aurello In )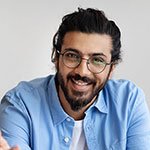 I started in this program in less than 30 days my credit went over 119 points with 70 items deleted. Highly recommended them to my family.
Martin Davison,

( Senior VP of Hardy Construction)